Rheological Testing & Flow Simulation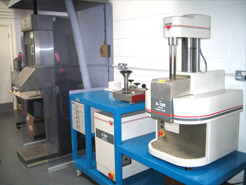 The Rosand RH7 & RH2200 Capillary Rheometers
Fleming PTC was established by Dr Don Fleming in 1998 who has almost 20 years experience in the polymer industry. Having worked for a rheometer manufacturer and completed a PhD in rheology in his early days, it was apparent that this knowledge was essential to the processing community, but in short supply.
The company now supplies the following polymer testing services to many of the polymer industry's largest producers:
Capillary Rheometry
MFI / MVR
Flow Simulation
Impact Testing
DSC / TGA
Training
Consultancy
Company Profile
Principal Consultant Don Fleming graduated in Mechanical Engineering at Bradford University before undertaking a PhD in the same department. The substantive areas of his research were the reactive extrusion of cross-linked LLDPE and PET foams via twin screw extrusion.
Having written and presented over 20 papers throughout Europe, juggled with extruder dies, and having his hands burnt on many occasions by a variety of polymer melts, has cemented both the practical and theoretical aspects of rheology.
Fleming PTC strives to keep at the forefront of technology and is constantly looking to add new techniques and update existing ones. To this end ISO 9001:2008 was awarded in January 2007 and the company has patented a co-extrusion die system via a DTI SMART award. Research continues in this area and updates can be followed in our newsletters. View our IS09001:2008 Certificate.
ISO 9001:2008 accreditation for Fleming PTC
What is ISO 9001:2008?
ISO 9001:2008 is the internationally recognised requirements standard for Quality Management System (QMS). It provides the company with a set of processes that ensure a common sense approach to the management of the business activities to prevent quality failures.
The methodology ensures consistency and improvement of working practices, which in turn provide products and services that meet customer's requirements.
ISO 9001 is underpinned by eight management principles:
A customer focused organisation
Leadership
The involvement of people
Ensuring a process approach
A systematic approach to management
A factual approach to decision making
Mutually beneficial supplier relations
Continuous improvement
What are the benefits of registration?
Policies and objectives set by 'top management'
Understanding customer's requirements with a view to achieving customer satisfaction
Improved internal and external communications
Greater understanding of the organisation's processes
Understanding how statutory and regulatory requirements impact on the organization and your customers
Clear responsibilities and authorities agreed for all staff
Improved use of time and resources
Reduced wastage
Greater consistency and traceability of products and services
What benefits to Fleming PTC customers?
The benefits to clients is that they have the added confidence that all FPTC processes, both business and instrument, are regularly audited by an independent accredited source.
Our postal address:
Fleming
Polymer Testing & Consultancy,
Unit 326 Hartlebury Trading Estate
Kidderminster
Worcestershire
DY10 4JB UK