Extrusion
Extrusion is broken down into two parts :
1. Extrusion and Extrusion Compounding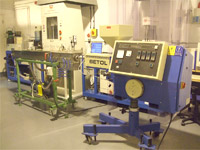 Betol Single Screw Extruder
A Betol 25mm diameter single screw extruder is available for small-scale extrusion trials and compounding. It is often required to blend a polymer sample for either using in another extrusion technique and/or investigating the rheological behaviour of a blend using off-line instruments such as the capillary rheometer.
However, the rheometer is not capable of mixing two or more materials and assumes a totally homogeneous sample is being tested. When this is the case, a blend can be compounded on the extruder, pelletized and the product used in the off-line techniques.
The Betol 25mm extruder with its water bath and pelletizer is perfect for these operations as well as driving the film tower.
Compounding
2. Pilot-scale Blown Film Line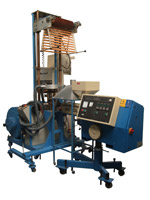 Extrusion Blown Film Line Instrument
A lab- scale blown film line is available for the pilot production of developmental mono-layer film formulation and trials. In many cases the extruder can be used beforehand to create a blend which can then be extruded again using the film line.
In this way a series of formulations can be examined for process optimisation and service properties on a small scale rather than the costlier alternative of using a production-scale line.
Our postal address:
Fleming
Polymer Testing & Consultancy,
Unit 326 Hartlebury Trading Estate
Kidderminster
Worcestershire
DY10 4JB UK